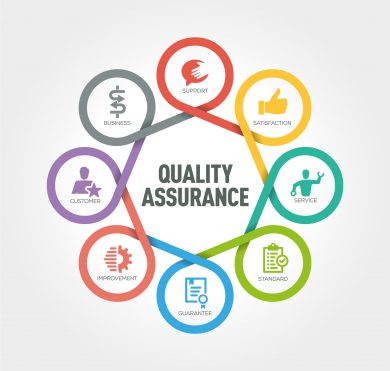 What is our objective?
At ACMTRAD we have one key goal: client satisfaction. But how do we achieve it?
Our procedure
At ACMTRAD we're committed to the quality of our work and we ensure that our technical translations maintain the highest levels. One of the ways we achieve this is with the application of our quality system, which follows the ISO UNE-EN 17100:2015
quality standard for translation service providers
. Certified by our registration number DIN EN ISO 17100:2016-05, this consists of three essential points:
Customer focus
Professionalism of all individuals involved
Continuous improvement
Our work processes comprise various stages:
Pre-production: we gather as much information as possible about the project, ensuring that we know both the technical aspects along with the linguistic specifications of the client and their products or services.
Production: the first translation is proofread by another professional to confirm that it's correct and that there are no misunderstandings compared to the original. In addition, we read it through a second time after finishing any formatting to make sure that no mistakes have been made.
Post-production: after delivering the documents to the client and processing their comments, we incorporate them into the project history in order to keep any terminology that they use fully updated.
Our clients know that we're 100% committed to our quality policy and that we never deliver poor quality translations: this would impact both our reputation and yours if you were to proceed with printing.
We have a Quality Management Manual that outlines the objectives, procedures and guidelines to follow for each assigned project.
Our quality management procedure begins with the preparation stage. The use of specific glossaries and our translation memory system allow us to ensure that the materials we produce are consistent and of the highest quality.
To make our workflow more agile, we're completely transparent about our use of computer-assisted translation (CAT) tools.
This helps us to be more efficient and to maintain the quality of our services, without ever losing sight of the human side of our localisation work.
Through the introduction of neural machine translation as a tool we're able to customise the search engines to adapt to the content and style of each client, therefore accelerating the translation process in high-volume projects.
We're members of the main professional associations of translation, interpretation and localisation agencies in Spain: ANETI (National Association of Translation and Interpreting Companies), ASETRAD (Spanish Association of Translators, Interpreters and Proofreaders) and ASATI (Aragonese Association of Translators and Interpreters).